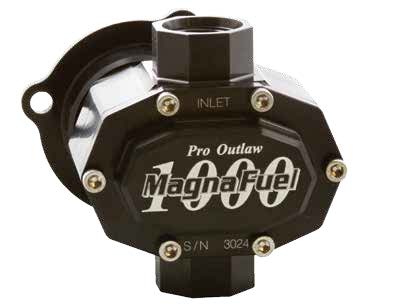 Outlaw Series
Engine Hp: up to 3,000+¹
Belt drive with industry standard coupling for instant
swap to high performance.
•Tighter tolerances for easy priming, quick and reliable starts
•Flow rates up to 10.5 gpm at 100psi for engines with high-volume fuel demands, such as alcohol
•Compact, ultralight design
•Standard 3/8" Hex drive for use with existing devices (belt or cam)
•High-performance gear pump is more durable and requires less maintenance than other designs
•CNC machined body, with hard-anodized finish is compatible with gas, methanol and ethanol
•Double-support bearings, ground-steel shafts, precision lapped
•Polymer wear plates provide tighter tolerances and last longer than other surfaces
•Field serviceable with available rebuild kits
•Absolutely eliminates fuel starvation
•Increases fuel volume delivery as engine RPM increases
•Each pump is flow tested to ensure optimum performance and shipped ready-to-run
•Requires bypassing regulator for EFI applications
•Bracket and cog pulley not include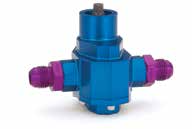 Industry-standard belt-drive coupling
-Fittings not included
¹ Power ratings are for naturally aspirated engines running gasoline. ²Fittings not included. Some products legal for racing only; never to be used on public roads or emission-controlled vehicles.
MAGNAFUEL PRODUCTS INC.
5015 Galley rd
COLORADO SPRINGS, CO 80915
© 2016 MagnaFuel. All Rights Reserved