ProStar 500
Engine Hp: 2,000+¹ at 28psi.
The classic: high volume at rated pressure.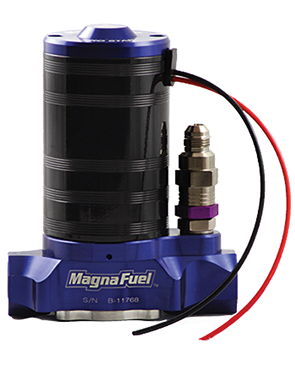 •High performance when rated at flow vs. pressure
•External by-pass to eliminate pump cavitations
•Instantaneous compensation for sudden changes in fuel demand
•Consistent, reliable fuel supply for optimum carburetor performance
•Compatible with both alcohol and gasoline racing fuels
•Light weight
•Hand assembled to the highest quality standard
•Pump bodies computer machined out of high quality 6061 Aluminum
•Custom built low amperage motors – the best in the industry
•Compatible with 12- and 16-V electrical systems
•No metal to metal contact for reduced wear and greater reliability
•Blades self-compensating for wear
•Flow tested to ensure maximum performance
•All MagnaFuel pumps are rebuildable to "as-new" factory specifications
¹ Power ratings are for naturally aspirated engines running gasoline. ²Fittings not included. Some products legal for racing only; never to be used on public roads or emission-controlled vehicles.
MAGNAFUEL PRODUCTS INC.
5015 Galley rd
COLORADO SPRINGS, CO 80915
© 2016 MagnaFuel. All Rights Reserved