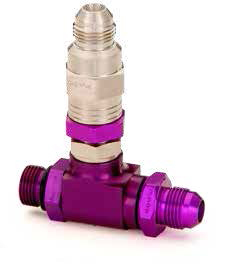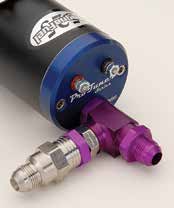 Jam-nut design allows you to position the bypass at any angle. Bypass connects to output port on the top of the pump.
Optional bypass (MP-8026) for Carbureted Applications. Outlet fitting not included.
ProTuner Series
Engine Hp: up to 2,000+¹
Once-piece design is more
compact and light weight.
•Ideal for street muscle cars
•Quiet operation
•Self priming
•Continuous duty
•No pump shaft seals, no leaks
•Pump body CNC machined aircraft aluminum
•High-torque custom motor with very low current draw.
•Never requires stepdown
•More efficient than other motors
•Double support bearings
•Re-buildable to as-new condition
•Compact design fits in smaller spaces
•Smaller than competitive pumps, lower current draw, more powerful
•Hard anodized, long lasting finish
•Mounting bracket included
•Vertical or horizontal mount
•Polymer wear plates for smooth, quieter operation
Also Available in black!
*When ordering this part in black make sure to add "BLK" to the end of the part number
¹ Power ratings are for naturally aspirated engines running gasoline. ²Fittings not included. Some products legal for racing only; never to be used on public roads or emission-controlled vehicles.